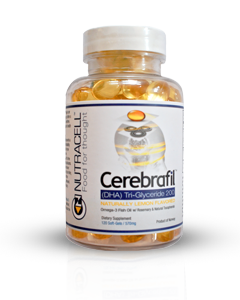 The Cerebrafil difference   ->
Made from 100% Norwegian Wild Salmon from one single body of pure clean pristine waters.
100% Triglyceride formula for best bioavailability in the natural form.  No Ethyl Esters or chemically synthesized oils.  Ethyl Esters can be good for high numbers on label claims but studies show significantly lower bioavailability absorption and is considered a processed food.  Cerebrafil is totally natural unprocessed other then filtering for perfectly clean great tasting oil.
Taste.  Why do most people make a funny face when contemplating fish oil?  Because it usually tastes terrible.  Not Cerebrafil, This is because the impurities quickly spoil the oil.  The spoiled oil makes a person burp and feel uncomfortable. Cerebrafil is pure and clean so it tastes that way easily digesting.
Due to an increase in the availability of convenient pre-prepared or processed foods, and a decrease in cold-water fish consumption, the typical North American diet provides a lessening level of the long chain omega-3 fatty acids. Low fat dieting has also contributed to a decrease in the consumption of the Omega-3 fatty acids and other good fats among the general population.
Nutracell Cerebrafil containing DHA represents a breakthrough in fish oil supplementation. These are the only known fish oil supplements that will not repeat, cause stomach discomfort or have any aftertaste. Our unique lemon flavored softgel will delight your palate and provide the most extraordinary form of nutrients derived from fish oil available. Nutracell is committed to standards over and above that of cGMP and our raw material selection, handling and processing is unparalleled.
95% of all raw material available is not suitable for Nutracell standards. When we have made our selection for raw material we then have to maintain it's quality by utilizing an anti-oxident blend containing rosemary extract, ascorbyl palmitate and tocopherols. This will ensure that the product will remain optimized until it is consumed.
Testing
Every batch of product is extensively tested to ensure that it is free from potentially hazardous environmental contaminants such as lead, mercury, pesticides, arsenic, PCB's and dioxins. Although all of these hazardous contaminants are found in wild as well as farmed seafood, they will not be found here. The oils are then assayed for anisidine and peroxide values, this assures that there will not be any problems with taste, odor or stability. The manufacturing process and quality control protocols maintain redundant failsafe measures to ensure consistent effective results.
Cerebrafil

Product

Peroxide
Value1

Totox2

Heavy
Metals3

Dioxins &
Furans4

Dioxins-like
PCB's5
Non-& Mono-ortho

Omega-3
0.42 mEq/kg
7.0 mEq/kg
<0.5 ppb
0.101 ppt
0.0330 ppt



Peroxide- Not detectable at 5.0mEq/kg. CRN (Council for Responsible Nutrition) & GOED limit: 5.0 mEq/kg
Totox- (Total Oxidation) Not detectable at 26 mEq/kg. CRN & GOED limit: 26 mEq/kg
Heavy Metals- Not detectable at 0.1 ppm (particles per million). CRN & GOED limit: 0.1 ppm
Dioxin & Furans- Not detectable at 2.0 ppt (particles per trillion). CRN & GOED limit: 2.0 ppt
Dioxin-like PCB's- Not detectable at 1.0 ppt (particles per trillion). CRN & GOED limit: 3.0 ppt
Manufacturing
Nutracell's Cerebrafil is manufactured in a pharmaceutically licensed production facility in accordance with pharmaceutical production protocols, employing quality control and assurance measures undertaken for all aspects of the manufacturing process. This is the purest natural pharmaceutical grade fish oil available.
Accelerated Oxidation Test
Two samples of fish oil with and without antioxidants tested at 60 C
and 80 C gave the following results.
60 C
Introduction Period (Hours)
80 C
Introduction Period (Hours)
Fish Oil 18/12
1184/7119
11.7
2.0
Fish Oil 18/12 1185/7126
Added Proprietary Antioxident Blend consisting of Rosemary, ascorbyl Palmitate and natural tocopherols
44.7
8.2
Protection Factor
3.82
4.10
Life Extention
282%
310%
Cerebrafil TM Omega-3 DHA – Pharmaceutical Grade Fish Oil is a pure, organic pharmaceutical grade refined fish oil.
Derived from wild fish. No farm raised fish is used to produce Cerebrafil.
* Chewing natural lemon flavored Cerebrafil softgels is a tasty alternative to swallowing.
Omega-3 DHA 200MG (Docosahexaenoic Acid) – Pharmaceutical Grade
Nutracell

is dedicated to providing consumers of Complimentary Medicines and Food Supplements with the finest quality products available. Our products are made from only the best ingredients and are scientifically tested to verify purity and consistency. Directions for use: As a dietary supplement, take 2 softgels per day with meals or as directed by a health care professional. If you are pregnant, nursing, recovering from an injury, or have a heart or circulatory condition, consult a health care professional before use.
Supplement Facts
Serving Size 2 Softgels 1140 mg
Servings Per Container 60

Amount Per Serving

% Daily Value

Calories (energy)

10 mg

**%

Calories From Fat

10 mg

**%

Total Fat

1grm

1.5%

Saturated Fat

72.38 mg

**%

Cholesterol

1.26 mg

**%

Sodium

0 mg

**%

Total Carbohydrate

100.50 mg

**%

Sugar

0 mg

Protein

181.82 mg

Marine Lipid Concentrate

1140 mg

*

DHA (Tri-Glyceride)

200 mg

*

EPA Omega 3 Faty Acids

150 mg

*

Total Omega 3 Faty Acid Content

350 mg

*

Percent Daily Values are based on a 2,000 calorie diet.
* Daily Value Not Established
** Updating
Note: Some people may have allergies to seafood.  If you experience a skin rash or allergic reaction, discontinue use and consult a physician.
Tamper Resistant Package
Product of Norway
Ingredients: Marine Lipid Oil Concentrate, Gelatin, Glycerin, Ultra-Filtrated Water, D-Tocopherol.NOTE: Zero declaration is allowed if,
Fat (total fat) is less than 0.5 gram
Saturated fat is less than 0.5 gram
Carbohydrates are less than 0.5 gram
Protein is less than 0.5 gram
Cholesterol is less than 2 mg
** The statements made herein have not been evaluated by the food and drug administration. This product is not intended to diagnose, treat, cure or prevent any disease.